As automobile engines are getting more advanced, so does their lubricant oils. Because utilizing inefficient engine oil in an advanced engine could be quite hazardous for engines.
Hence the most important element for any automobile's engine is its lubricant oil, since it is responsible for the engine's protection and performance. And given the wide variety of renowned brands available, selecting engine oil for your motorbike, truck, vehicle, or even ATVs may be quite a problem.
Among the major brands of engine lubricants around the world, Castrol and Valvoline are considered to be two major giants in the field of manufacturing highly efficient, purely synthetic, and reliable engine oils.
Let's have a look at the brief introduction of both contenders.
Castrol – All You Need To Know:
Established in 1899 by Charles Cheers, Castrol is a British company that produces and distributes a wide variety of automobiles and industrial lubricants along with some other similar products like grease.
Its formal name was "CC Wakefield & Company" and the first engine oil by the company was launched in 1906.
It got its name 'Castrol' when its researchers found out that a small amount of castor oil, a vegetable oil made from castor beans, worked well as an engine lubricant upon adding some efficiency boosting additives.
Currently, Castrol is trying out new business strategies and products to keep up with the changing in sustainability, mobility, and digitalization.
Valvoline – All You Need To Know:
Valvoline is an American-originated company that was established in 1866 by John Ellis.
It was the company that paved for other popular brands since it is the oldest lubricant manufacturing company in the world.
From the world's first synthetic blend to the world's first high mileage oil, Valvoline takes the credit for being the leading lubricant company in the world. It possesses more than 1500 quick-lube locations with sales in more than 140 countries.
In the USA, it is considered to be the 2nd largest service provider in oil changing facilities. Ever since it was founded, its researchers are devoted to innovating, reinventing, and creating formulas for high-mileage, racing, recycled, and synthetic motor oils.
And they are sticking to that mission even right now and we can see that in their latest products as well.
There are several areas where one of them has an advantage over the other, even though both of them guarantee premium engine oils, high engine performance, and trustworthiness for contemporary engines.
Let's examine the data and draw a conclusion on which of the two brands, Castrol or Valvoline, you should select.
Quick Comparison
| | | |
| --- | --- | --- |
| Parameter | Castrol | Valvoline |
| Industry | Petroleum  | Chemical manufacturing and distribution  |
| Parent Company | BP (British Petroleum) | Ashland Inc. |
| Formerly known as  | CC Wakefield & Company | Continuous Oil Refining Co. |
| Founder (s) | Charles Wakefield | John Ellis |
| Founded | 9 March 1899 | September 6, 1866 |
| Origin | British | USA |
| Headquarters | Pangbourne, Berkshire, UK | Lexington, Kentucky, USA |
| Area Served | Worldwide | Worldwide |
| Key People | Mandhir Singh (CEO) | Sam Mitchell (CEO) Mary Meixelsperger (CFO) |
Both rival companies produce a wide range of engine oils for multiple applications.
Let's examine the comparison of a few popular engine oils by both competitors to get a good comparative study.
Flagship Oils of Both Companies – Valvoline vs Castrol Edge Full Synthetic: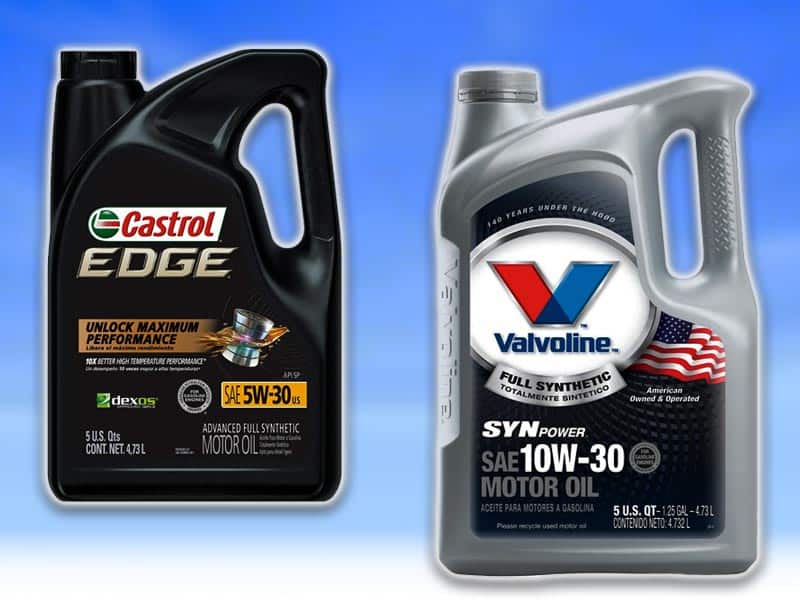 Castrol's fuly synthetic oil with its Fluid TITANIUM Technology is known for its physical transformation under extreme temperature and pressure, becoming stiffer to keep metal apart and reducing performance-robbing friction.
It provides ultimate engine protection under resilient conditions from wear and tear.
Despite being a premium oil for better engine protection, it also offers a longer drainage interval which means that vehicles would get enhanced wear protection for a longer period of time.
These are the reasons which make it highly reputable along with being costly.
On the other side, designed for high-tech engines, the Valvoline's fully synthetic oil, the SynPower delivers ultimate protection and performance to vehicles under high-stress environments.
It is made to protect engines going through severe driving conditions e.g. stop-start driving conditions on a highway or heavy traffic.
Despite having anti-wear additives in it, it is also quite compatible with the catalytic converter.
It keeps the engine clean and prevents any development of deposits or sludge due to the presence of advanced detergents in it.
It retains its flowing characteristics in cold weather and protects the engine from seizure, all thanks to pouring point depressants in it.
These contenders are entirely synthetic engine oils created especially for gasoline-based lubricating oil, but the Castrol Edge is more concerned with decreasing internal engine wear and tear, whereas its rival is more concerned with providing greater sludge removal capabilities. ILSAC GF-5 & API SN criteria are met and exceeded by both of them.
The oil costs somewhat more than its competitor due to its improved features and better anti-wear protection.
| | | |
| --- | --- | --- |
| Characteristics | Castrol's best oil  | Valvoline's best oil |
| Anti-wear Protection | High (v imp) | Low |
| Catalytic Converter Compatibility | Low | High |
| Sludge Removal Capability | Low | High |
| Anti-foaming ability | High | Low |
| Cold Temperature Endurance | low | High |
| Price | High | Low |
Winner: Its a Tie!
Side Note: We also did a thorough comparison of these oils, click here.
High Mileage Options from both Companies – GTX Vs MaxLife High Mileage Oils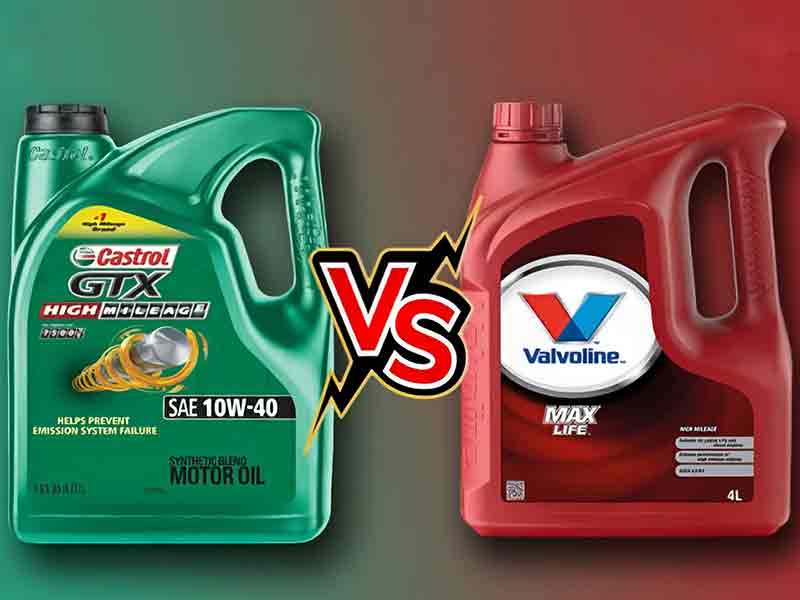 High mileage oils are suitable with older engines with more "mileage" on them.
Here, Castrol's GTX is the best the company offers in this category.
By preventing sludge and deposit buildup over an extended period of time, this synthetic blend motor oil increases engine life.
Phosphorous Replacement Technology is being used in the formulation of Castrol GTX to shield the catalytic converter from the harmful effects of phosphorous, a significant anti-wear additive.
To keep the impact of wear prevention, some phosphorous is replaced with a cutting-edge additive.
Outstanding detergency is provided by its special additive, aiding in the fight against sludge and prevention of harmful deposit build-up.
On the other hand, your high-mileage engine will also be protected by MaxLife's patented mixture, which combines synthetic and premium traditional oils, against wear, heat, friction, and deposits—the four main reasons why engines break down.
Premium seal conditioners of MaxLife prevent seal leakage. Additionally, it combats rust, corrosion, and sludge, all of which can impair the power and fuel efficiency of your engine.
Made from a synthetic blend, both competitors are manufactured for gasoline and diesel engines having more than 75,000 miles in their odometers.
Both of them meet the ILSAC GF-6 standard but MaxLife takes the lead as it meets the latest API SP standard while its competitor meets the inferior API SN standard.
The cost of GTX would surely rise as expected since it delivers performance in a high-temperature environment, better anti-wear facility, quality cleaning, and longer drainage intervals.
Winner: Castrol GTX High Mileage.
(The oil provides better oil burn off protection, and has more high temperature endurance but would cost you a little higher in comparison).
For a thorough comparison of these oils, click here.
What about Valvoline VR1? Their High Performance Racing Oil:
Being a popular racing lubricant oil, VR1 oil's high zinc formulation provides good wear protection on the highway or racetrack.
And its unique chemistry is designed to enhance protection and reduce internal friction.
High-performance gasoline engines and those fueled entirely or partially by alcohol are both advised to use VR1.
Note: In wet clutches or on catalytic converter-equipped automobiles, it is not advised.
If we compare it with Castrol's GTX, then both the contenders are formulated for gasoline-powered automobile engines.
Here Castrol GTX meet the latest ILSAC GF-6 and API SN standard while its competitor meets the inferior API SM and ILSAC GF-5 standards. And when it comes to performance under a high-temperature environment, both competitors would perform well and protects the engine from failure due to excessive heat.
Winner: Again Castrol!
It is a great synthetic blend of motor oil that extends the engine's life by protecting it from sludge and deposit formation over a long duration.
To protect catalytic converter from the adverse effects of phosphorous, a major anti-wear additive, GTX is being formulated with Phosphorous Replacement Technology.
It replaces a few amounts of phosphorous with an advanced additive to maintain the effect of wear protection. Its unique additive provides outstanding detergency, assisting in the battle against and prevention of dangerous deposit build-up.
For a thorough comparison of Castrol GTX High Mileage and Valvoline VR1, click here.
Conclusion
Both organizations provide highly effective and efficient engine oil oils for automobiles, there is no denying that.
Additionally, their items are categorized into several groups depending on each of their unique qualities and benefits.
Meaning that two products by the same manufacturer could have different attributes based on their manufacturing intent.
For example, Castrol Edge serves the purpose of delivering premium wear protection to engines in a resilient environment, while on the other hand, GTX High Mileage is designed to offer longer drainage intervals.
So it all comes down to personal preference when it comes to choosing an engine oil.
Even though both competitors are quite reputable when it comes to engine oils, they do have their distinctive pros and cons.
By analyzing the contest between some popular Castrol and Valvoline engine oils, we have come to the conclusion that Castrol is relatively costlier than its competitor.
And the reason behind it is its relatively longer drainage intervals and better performance in a high-temperature environment.
While on the other hand, it is being observed that Valvoline offers better sludge protection to engines along with premium wear protection in cold weather environments.