Both Pennzoil Ultra Euro L and Pennzoil Ultra Platinum are the best motor oils on the top-rated portfolios. They also improve the engine's efficiency by 40% because they are low in viscosity, decrease engine friction, and avoid emissions but you'll see some contrasting factors!
No doubt both these oils are good to go with motor engines, but still, they are some visible dissimilarities that make one of them preferable to users. The reason behind the below comparison is to help you find the suitable one for your car. Let's get into it.
Features Type Comparison:
Pennzoil Ultra Euro L is prepared by the PurePlus technology (revolutionary process help to convert natural gas into crystal clear base oil within zero impurities) completely.
It has been approved, as one of the cleanest engine oils in the market, with zero deposit possibilities with unique features.
On the other hand, Pennzoil Platinum Ultra is also made by PurePlus technology, synthetic motor oil and is highly race-trusted.
| | | |
| --- | --- | --- |
| Specs | Pennzoil Ultra Euro L | Pennzoil Ultra Platinum |
| Oil Type | Fully Synthetic | Fully Synthetic |
| Engine Type | Gasoline and Diesel | Gasoline |
| Viscosity Grade | 0W-20, 0W-40, 5W-30, 5W-40 | SAE 0W-20, SAE 0W-40, SAE 5W-20, SAE 5W-30, SAE 10W-30 |
| ILSAC | GF-6A | GF-6A |
| API | SN Plus | SN Plus |
| Cost | 22.93$ | 50.98$ |
| Oil Change Frequency | 15000 miles | 10000 miles |
There are some core features are described below; let's have a thorough look to make a comparison:
Resistance to High Temperatures:
Pennzoil Ultra Euro L provides higher temperature resistance and tolerance against heat and varying temperatures. The primary reason behind this property of Pennzoil Ultra Euro L is its high thermal shock resistance.
The superior heat resistance of this oil has made it better alternative to degradation for about 32%. Ultra Euro L is an excellent match for the modern vehicles that you might be using.
Because it especially takes care of negative impacts on engine health!
Compared to Pennzoil Ultra Euro L, Ultra Platinum protects your internal engine from harmful damage, even in cold weather.
Due to the combustion process and friction produced by the fast-moving engine parts, heat is also produced. But the harmful impacts of this heat can be reduced by using Ultra Platinum oil.
Wear Protection Comparison:
The Pennzoil Ultra Euro L is both API and ILSAC GF-5 passed, which will never leave you in between. Getting standard certifications from both of these standards is not easy.
Oils are highly tested from all aspects, then passed, and will be rewarded with the certification, an assurance of its quality.
If we talk about Pennzoil Ultra Platinum, it will last your car for up to 15 000 miles without any signs of poor functioning. This will never leave your engine even in a thousand miles of the journey. That's why it has wide used over industries due to the loner lasting capacity.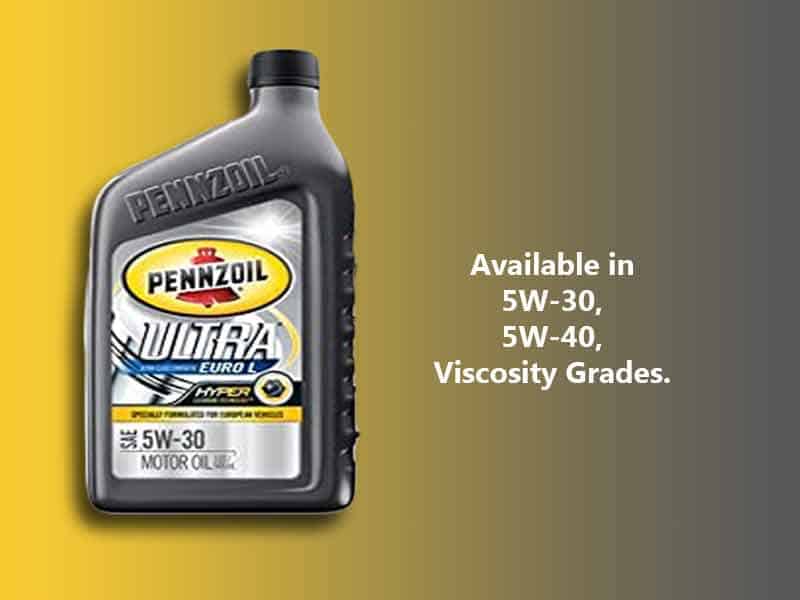 Superior Cleaning Comparison:
Pennzoil Ultra Euro L contains a feature that no other oil has: its engine cleaning power. Yes, it will keep your engine and its parts clean 40% more than an industry standard because it prevents the deposition of sludge and other waste.
It's also due to the active cleansing detergents present in it. It has been said that Ultra Euro L is the solution to potential stubborn deposits.
Keeping in view, Ultra Platinum also protects friction, sticky sludge deposits, and engine parts damage, so the components and overall performance cannot be affected. In this section, both oils protect the engine and parts in the same direction.
Purification Techniques and Technologies Comparison:
Both engine oils are produced by the PurePlus technology and converted into high-quality motor oil by natural gas. Thus, both are formulated with the PurePlus technology, so the purification and preparation methods are the same.
In PurePlus technology, the natural gas is converted into high-quality motor oils by revolutionary processes, which helps to make 99.5% of pure oil compared to the general crude oil.
Shell is constantly using this technology to make better Pennzoil products with enhanced performances. It has been observed that the use of PurePlus ensures no remains of impurities.
Additives Comparison:
The primary aim is to protect the engine from stubborn deposits and unhealthy performance. Whenever the engine revolves or circulates, the crude and waste sludge will produce.
To protect engine health from such wastes, the shell is now using high-quality additives.
The additives can be dispersants, detergents, antioxidants, anti-wear, corrosion inhibitors, modifiers, and much more.
The case studies on the efficiency of motor engines and oils have clearly shown that additives have a leading role. The overall health performance is dependent upon it.
For now, Pennzoil Ultra euro L is using a mixer of phosphorus and sulfur as an additive. This highly enhances combustion and lubrication and even works perfectly under extreme temperature conditions.
On the other hand, Ultra Platinum contains molybdates and nitrates as an additive. These are especially corrosion inhibitors and that efficiently slow down the cathodic reaction.
Also, it's helpful in creating limitations in the diffusion of reducing species to the metal surfaces.
Engine Performance Comparison:
The engine performance will be decided after going through the various steps.
Catalytic Converter Performance
Catalytic converters can be highly affected by toxic components present in engine oils. These components are generally added to while we are choosing additives.
Similarly, if we go through the additives of Pennzoil Ultra Euro L, the additives used are the mixer of phosphorus and sulfur, which is high in toxicity. The phosphorus is present in 823 ppm amounts, while sulfur is present at 0.29%.
Thus, high vapors may be formed when temperature leads, harming the catalytic converter.
While additives of Pennzoil Ultra Platinum involve corrosion inhibitors, so they perform well in maintaining catalytic converters.
Avoiding Waste Sludge Comparison
The engine oils, upgraded by adding suitable additives, surely avoid the surplus of sludge and waste materials. These are such crude wastes that decrease the efficiency of the overall engine and damage the components.
Both of these oils are made with additives that perform well in avoiding wastes and sludges. Based on this, if you want to select engine oil, both are best, but your preference will be the one that shows compatibility with your vehicle.
Seals Protection of Engine Comparison
The engine seal has been declared the biggest loss because it disrupts all other functions of the engine. And if it is not tackled for some time, it will undoubtedly remain incurable.
There are several reasons why this can be sealed, but good engine oil removes almost all.
Observations show that the biggest cause is an accumulation of sludge which can be avoided by the strong additives present in the engine oil. There are additives present in both of them. But the preferable has non-toxic additives.
Again, Pennzoil Ultra Platinum catches a win.
Volatility Score Comparison
The volatility of any engine oil decides its life cycle after how much time you need to change the oil again. Simple, low volatility engine oils are best.
Here's the truth!
Here, Pennzoil Ultra Euro L is certified by SN/GF 5 to provide low volatility, which ultimately performs in the engine and the health of its components. The oil has low volatility, surely will take care of engine cleanliness.
Pennzoil Ultra Platinum has volatility control along with efficient low-temperature performance. The current version contains NOACK volatility of 11% because of PurePlus technology, which ensures the low consumption of oil and drastically increases the fuel economy.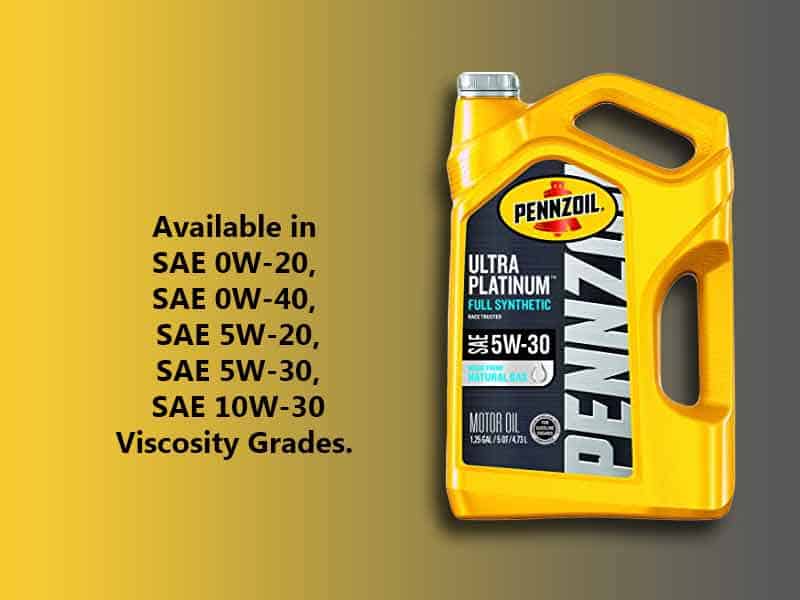 Viscosity Grades Comparison:
The viscosity of engine oil is much more essential than the volatility and performs in engine components' overall health of efficiency. Pennzoil Ultra Euro L has is available in SAE 0W-20, SAE 0W-40, SAE 5W-30, SAE 5W-40 while the Pennzoil Ultra Platinum has SAE 0W-20, SAE 0W-40, SAE 5W-20, SAE 5W-30, SAE 10W-30 multi-grades viscosities.
This means both of these engine oils have the same viscosity numbers. These numbers may be varied or decreased by seasonal variations.
For example, a change in temperature will directly cause a change in viscosity.
Costs Comparison:
The price per liter of both of these engine oils is mentioned below:
The Pennzoil Ultra Euro L costs you $22.93 per liter
The Pennzoil Ultra Platinum costs you $50.98 per liter
Here definitely, the Ultra Euro L is cost-friendly to you but has limited benefits to your vehicle. You can improve your vehicle's efficiency by investing more in Ultra Platinum.
FAQs
Are Both of These Engine Oils Certified?
Both of these engine oils are Dexos approved, along with their viscosity grade. That's why these oils are showing compatibility with GM Buick, Cadillac vehicles, Chevrolet, and GMC.
Can I Mix Both of These Oils and Then Use Them?
Although, both of these engine oils are two different models of one brand. But mixing both of them is not a good idea. The reason behind this is, they both have major differences in them. So, don't do experiments with your engine oil.
Are Both of These oils Fully Synthetic?
Yes, both of these oils are fully synthetic, offering optimal engine and its components performance!
Conclusion:
The ultra-euro L and ultra platinum both play a role in providing efficiency to the engine. Still, there are some factors that make Pennzoil Ultra Platinum a better pick. These factors include the cleaner engine and increased efficiency in piston movement due to extra detergents.
Furthermore, whenever we talk about the compatibility with the engine, Pennzoil Ultra Platinum becomes a prioritized choice.