Pennzoil Ultra Platinum is a high-quality synthetic oil that uses Pure Plus technology to create it. This technology is extremely beneficial in the production of synthetic lubricating oil, which allows the engine to work at its best. Pennzoil ultra platinum is mainly used in turbocharged engines and older diesel engines, cars (Honda CR-V, Mercedes-Benzes) and trucks. Its ultra-cleaning power and high custom protection makes it more special.
Amsoil Signature Series is a chemically developed synthetic pure lubricant that is made. Its architecture ensures that all of the lubricant's molecules are functional; there is no lubricant waste.
Amsoil Signature Series is suitable for all types of gasoline engine vehicles like passenger cars, UV and lights cans. It is famous for its ultra cleaning power and greater metal gear protection.
Both of the mentioned oils have excellent fuel economy.
Side By Side Comparison:
Pennzoil Full Synthetic
Amsoil SS
| | | |
| --- | --- | --- |
| Specs | Pennzoil Ultra Platinum | Amsoil Signature Series |
| Viscosity | 0W-20, 0W-40, 5W-20, 5W-30, 10W-30, 5W-40 | 0W-20, 0W-40, 5W-20, 5W-30, 10W-30 |
| ILSAC   | GF-6 Exceeds ILSAC, GF-6 Engine cleansing and protection requirement | Gf-5, GF-4 |
| API   | SP, SN, SM, SL AND SJ | SN, SM |
| Oil Change Frequency   | 5000-10,000 miles | 25000 miles |
| ACEA   | A5/B5-10, A5/B5-12 | A1/B1 |
| Oil type   | Fully synthetic | Fully synthetic |
| Engine Type   | Turbo charged engines, older diesel engines | Gasoline engines |
| Additives | ZDDP, Zinc | Detergent, phosphorus, zinc, ZDDP etc. |
Oil Type Comparison
Pennzoil Ultra Platinum is a first-of-its-kind 100% synthetic motor oil created from natural gas that is race-proven to provide COMPLETE PROTECTION. Conventional oil is made from crude oil that has been partially refined due to the presence of gaseous and metallic particles.
This synthetic oil, on the other hand, is better for the engine and the environment. The Pennzoil Ultra Platinum is notable for its bespoke protection; it is specifically developed to safeguard high-speed automobiles on race tracks.
Amsoil Signature Series is also a fully synthetic motor oil. Synthetic lubrication oil is always preferable to conventional lubricant oil because conventional lubricant oil is refined from crude oil, which has a poor character in which all metallic and gaseous components cannot be removed.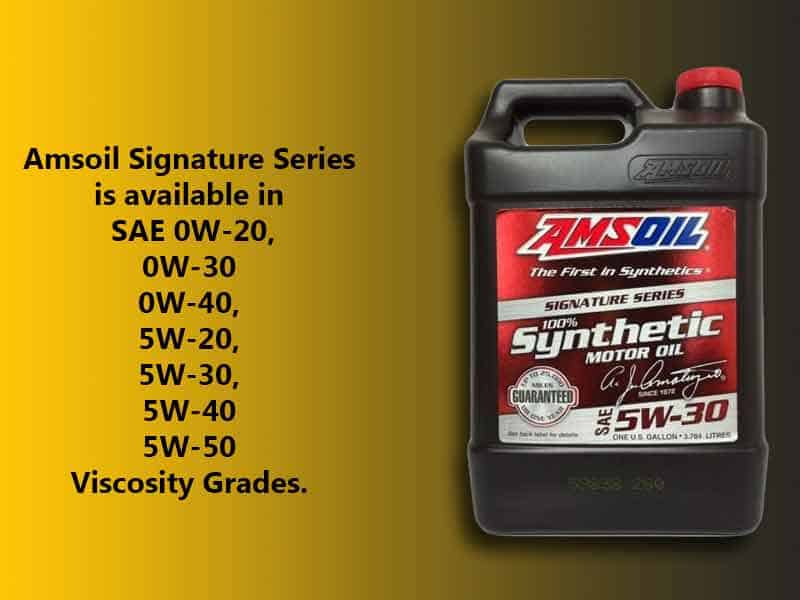 As a result, conventional oil is rendered ineffective
Engine type Comparison
Pennzoil ultra platinum works best in advanced turbocharged vehicle engines and older diesel engines. The Ultra Platinum variety, like the Platinum Motor Oil, is compatible with both new and old car models.
Amsoil signature series is Suitable for turbocharged, gasoline, and direct-injection engines. In engine tests, the Signature Series provided 100 percent protection against low-speed pre-ignition, a common problem in today's modern engines that is more damaging than ordinary pre-ignition.
Additives comparison
Pennzoil ultra platinum Synthetics have modern anti-wear compounds like ZDDP or "zinc," which build a protective layer that is thinner than a strand of human hair but capable of absorbing impact at high-pressure areas inside your engine.
It is engineered using our unique Pure Plus gas-to-liquid technology and a high-performance additive system to give a high-quality base oil.
 While AMSOIL signature series lubricants contain a high concentration of high-quality additives that consistently produce high TBN throughout the oil's life. … AMSOIL lubricants contain detergent and dispersion ingredients that help to minimize the production of sludge and carbon deposits.
Amsoil signature series is engineered for those who want the best protection and performance. Precision-formulated using cutting-edge technology and a long-standing commitment to producing the best motor oil in the world.
The practice of adding additives to motor oil to improve its performance began. These additives improve the lubricant by reducing destructive processes and enhancing the beneficial characteristics of the basic oil, respectively.
Viscosity comparison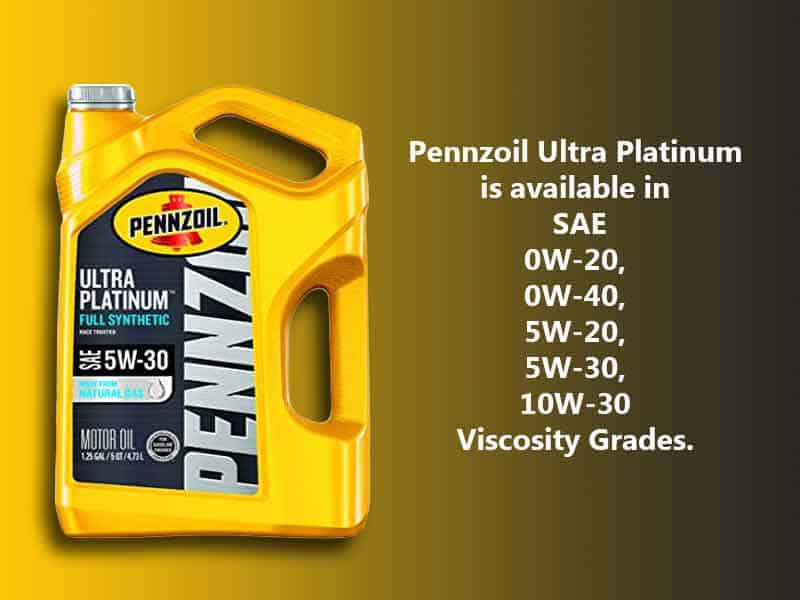 Both Pennzoil Ultra-platinum and Amsoil Signature can be availed in variety of viscosities; 0W-20 suitable for all gasoline and turbocharged engines in cars, SUVs, light vans, and trucks; under all driving situations, 0W-40 for European vehicles especially Mercedes-Benzes, Porsche and Volkswagen, every Chrysler SRT8 HEMI engine, as well as the SRT Viper, 5W-20 suitable for every vehicle under all driving conditions 5W-30, which is appropriate for common car models, such as the Ford Focus, Ford Ka, Honda Civic, and Volkswagen Golf 10W-30 suitable for heavy load engines due to its capacity to sustain high temperatures for an extended period of time without impairing engine efficiency,
Pennzoil Ultra-platinum, on the other hand, is available is two more viscosities than Amsoil Signature; 0W-30 and 5W-50, making it suitable for every passenger car, truck, SUV, light cans and for gasoline engine vehicle cars and trucks as well respectively. 
How long does it require to change these oils?
Pennzoil ultra platinum will last 550 miles longer than other motor oils, cutting maintenance expenses and frequency of oil changes. The period between changes is usually between 5,000 and 10,000 miles.
On the other hand, Amsoil Signature Series Motor Oil has a 25,000-mile/12-month warranty (15,000-mile/12-month warranty in harsh service).
Features
Wear Protective Gear:
In Pennzoil ultra platinum, as the engine material ages, it begins to deteriorate, reducing the engine's lifespan. However, the engine wears protection aids in the prevention of future weather as well as current wear during use.
Amsoil Signature series, provides 75 per cent greater metal wear protection than other common oils on the market. It also prevents the same level of horsepower loss that was described earlier.
It forms a Fluid Film on the piston to protect the engine from further wear.
Ultra-Cleaning
In Pennzoil ultra platinum case, when an engine is used for a long time, wax builds up in the piston and connecting rod.
This wax obstructs the piston's ability to move at the correct pace, resulting in poor horsepower.
The technology of cleanliness, on the other hand, keeps the engine clean so that you can get the optimum speed.
Amsoil signature series contains 50% more detergent than regular oil, removing 90% more sludge and ensuring Maximum Clean Oil.
Performance:
Both of the motor oils improves the engine's performance by increasing RPM and Horsepower.
Temperature
Pure plus Technology is used in Pennzoil ultra platinum Synthetics, a technique that manufactures base oil from natural gas rather than crude oil. Pure Plus base oil will not "gel" in extremely cold temperatures, nor will it evaporate or break down in extremely hot temperatures.
Pennzoil ultra platinum Synthetics' oxidation stability makes them perfect for today's direct injection and turbocharged engines, which burn hotter.
Whereas the Amsoil signature series aids in the engine's ability to start at low temperatures. The oil's 66 percent lower Cold Temperaturethan other standard oils ensure better fuel economy, easier starting, and enhanced oil flow.
Because of the oil's innate resilience to high-temperature instability, they are effective at lower temperatures. In other words, at moderate to high temperatures, the oil does not evaporate.
Hundred per cent protection to your engine's pistons
Pennzoil platinum and Amsoil both motor oils provide 100 percent protection to your engine's pistons from pre-ignition and low-speed for all sorts of automobiles. They supply the proper viscosity lubricant while still providing the best engine protection.
Longer Protection
Pennzoil ultra platinum provides you protection by allowing you to drive for 5000-10,000 miles. While, Amsoil Signature Series provides you with Longer Protection by allowing you to drive for 25,000 miles, which is around one year.
Improved fuel economy
Pennzoil ultra platinum and Amsoil signature series both have highly improved fuel economy by helping to keep your engine clean.
Bottom line
Pennzoil Ultra Platinum aids in the engine's ability to operate at high temperatures, whereas the Amsoil signature series aids in the engine's ability to start at low temperatures.
Pennzoil Ultra Platinum is created from natural gas using a gas-to-liquid method, whereas Amsoil is made without any additional particles in the oil. Both have their benefits which made them better than other motor oils.
Both are helpful to maintain engine performance, providing excellent fuel economy.
Both are available in maximum viscosities so it is very difficult to categorize the best one among them.